I could just say it's been a busy week and leave it at that.
And I wouldn't be lying either because it has been a very busy week. And an exciting one.
But if I was to say, 'I haven't had time to write a blog post this week because I have been busy,' and then leave it at that, well, I don't feel that's fair on you. Because, it's Sunday, and here you are expecting your Sunday afternoon blog post and I've turned up (or, more accurately, not turned up) and told you that there's no blog post this Sunday because I've been too busy to write one. And then, for all you know, I've leaned back in my comfy chair with a drink in one hand, the remote control for the TV in the other and a slice of chocolate cake (chocolate cake being my favourite) in…oh, I don't know, my toes or something, and continued binge watching Season Four of Gotham.
It wouldn't be right, would it?
You deserve an explanation.
Because I have been busy. Last week was the launch for Joe Coffin Season Four, and that kept me busy enough all week. Plus, I still had my creative writing groups to plan and run AND I started work on my next novel. So yes, it's been a busy week.
Now, normally when I have a week as busy as this I carve out some precious time at the weekend to write that blog post for publication on Sunday afternoon.
But I haven't even had time to do that as this weekend I have been away and doing something rather special.
You may have heard me talk about Christian Marclay's incredible film installation The Clock before. I first heard of it in 2010 and got to see some of it at The Hayward Gallery not too long after.
For those of you who don't know, The Clock is a 24 hour film on a loop, edited together from thousands of films and TV shows from all over the world in which each sequence tells the time in some way for every minute of a 24-hour period. So, in one sequence you have Sean Connery as James Bond checking the time on his watch and in another Gene Hackman as Popeye Doyle in The French Connection asks Roy Scheider what the time is.
The Clock is also synchronised to the local time, and it actually does perform a function as a clock.
Of course you spend the first few minutes checking the time whenever you see the time displayed, or told, on screen. But then you quickly sink into it and the film becomes mesmerising.
The problem with The Clock being synchronised to the real time is that you only get to see the portion of the film available during gallery opening hours. It's playing at the Tate Modern at the moment and if you go to see it on a Saturday then you will get to watch The Clock from 10:00 am to 10:00 pm.
But that still leaves half the film unwatched.
Probably more, unless you have the stamina to sit and watch a film for twelve hours.
The Tate Modern got around this problem by holding three twenty-four-hour screenings.
And yes, you guessed it, this weekend I went to one of them. The final one in fact.
I arrived at the Tate Modern at about 4:45 pm to discover a queue. This was my third visit to see The Clock at the Tate Modern and I had never had to queue before.
The line moved pretty fast though, and I was inside and watching The Clock at 17:15. (This is how we viewers of The Clock talk about time in relation to the film. Sad, I know.)
I stayed in that gallery space, sitting on a surprisingly comfy sofa, for the next eleven and three-quarter hours until, forced by tiredness and a need for the toilet, left the screening at 05:01.
And now I have seen the night-time segment of The Clock. Or most of it, anyway.
The nighttime section is a wholly different experience to daytime.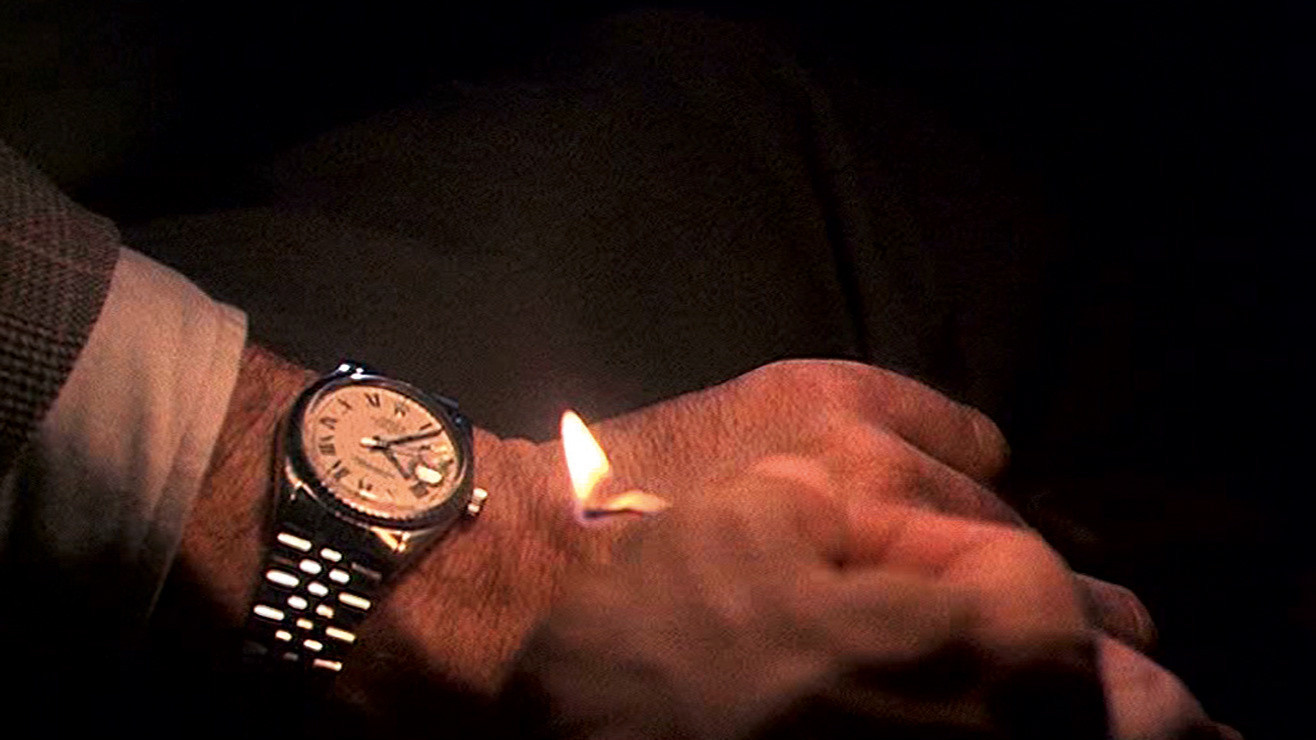 Especially after around 03:00 when it starts to become hallucinatory and dreamlike.
First of all we have the journey towards midnight which includes, obviously, Marty McFly and Doc attempting to power the DeLorean when lightning strikes the town clock tower at 10:04 pm (or 22:04 in The Clock parlance). Midnight arrives with a flurry of clock faces turning onto the hour, followed by various clips from movies of people trying to get to sleep, or make love, or even simply staying asleep, but always interrupted by something, usually the telephone ringing.
And then comes the clock faces, their hands spinning backwards along with the dream scenes from Hitchcock's Spellbound, designed by Salvador Dali.
It all became a very surreal experience, particularly in the gallery space crammed full of people, when the Tate staff started wandering up and down between the settees and shining their torches on viewers they suspected were asleep. Anyone they found asleep they shook awake and told them to watch the film.
So yes, for the last thirty-two hours and counting I have been awake, and for twelve of those hours I have sat and had the time told me, every single minute.
It was a lot more fun than it sounds.
But anyway, that's why I haven't had time to write a blog post this week.
Sorry and all that.