Being the busy sort of fellow that I am, I don't get out much to see new films anymore. I suppose that's why I talk so much here on my blog about older films, like this one (the best film ever made) and this one (not quite the best film ever made).
But every now and again I do try and catch up, and recently I even went for a double bill of films I had been meaning to watch for some time.
I watched Free Fire second, but I'm going to tell you about that one first. Why? Well, because it isn't very good, that's why.
I'm a big fan of the director and writer team (and husband and wife), Ben Wheatley and Amy Jump. They are producing some great work and don't seem particularly constrained by genre or audience expectations. So I had high hopes for this.
Initially all looked good. Set in the 1970s, the film was full of fantastic visuals, the wide collars, the shaggy hair, the beards, the grungy warehouse setting. And then there was the snappy dialogue. Within half an hour the expected shootout began, as tensions between the two sides of an arms weapon deal had been quickly rising. And then that was it for the next hour.
A shootout.
It was as though Wheatley and Jump had taken inspiration from Tarantino's Reservoir Dogs, but decided to extend the final few minutes into an entire feature. I quickly grew tired of the shooting and crawling and hiding and more shooting, but stuck with the film anyway. Mark Kermode gave Free Fire and much better review and said it was best seen in a cinema with a crowd.
I can understand how that might work, and if I ever have the opportunity I may well give Free Fire another chance.

Much, much better was Jordan Peele's directorial debut, Get Out.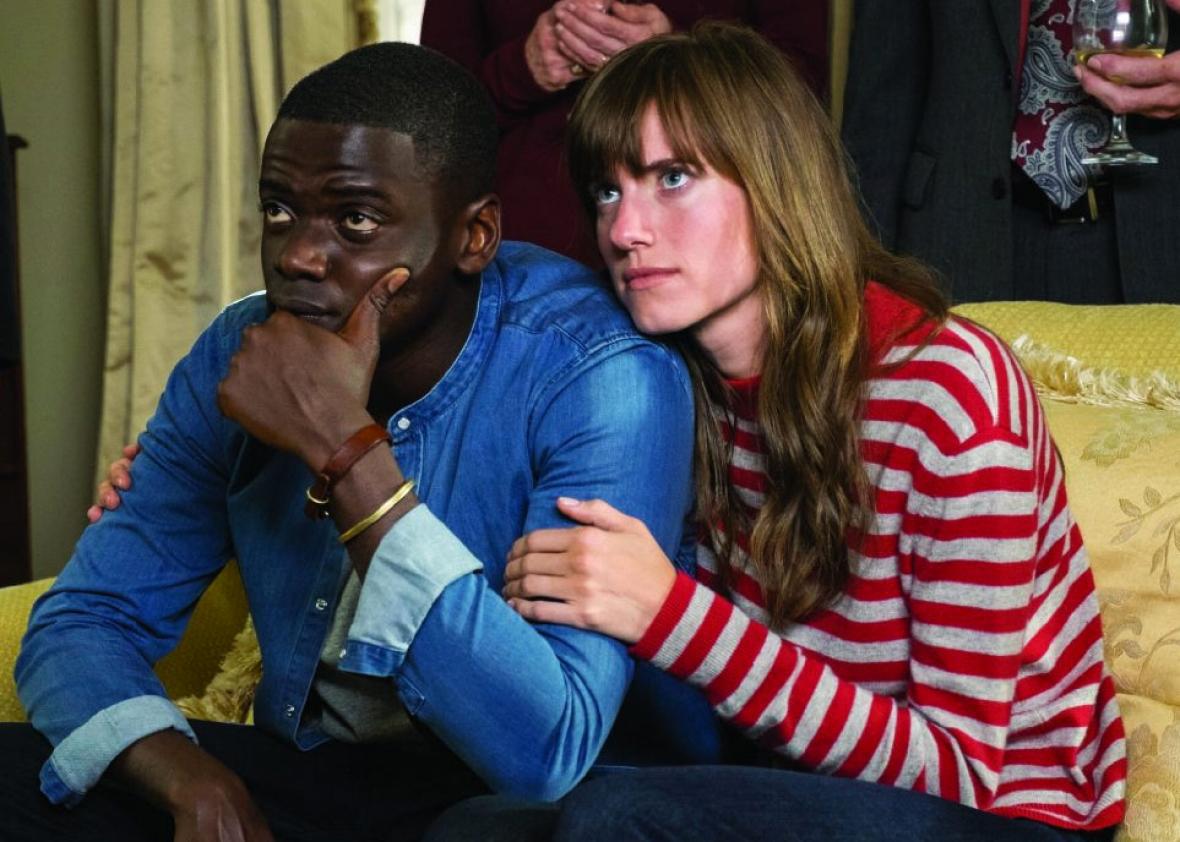 From the awkwardness of the early scenes where pretty, white girl Rose takes Chris, her black boyfriend, home to meet the parents, to the unsettling and cringe inducing party of the middle and the gore soaked violence of the film's ending, Get Out knows exactly what it's doing and how to unnerve its audience.
It's been a long time since I have been so caught up in a film that I found myself shouting at the screen, 'Leave, just go, now! Get out, quick!'
Get Out works so brilliantly on two different levels. On the one hand there is the horror of white privilege and faux liberalism — 'I would have voted for Obama for a third term if I could,' says Rose's father to Chris — and then there is the other horror, the one of blood and hypnotism and creepy basements.
Get Out uses the horror film tradition of jump scares and creepy music well and manages to inject some much needed humour into the mix too. Ultimately though, it's that seam of awkward navigation of race relations that runs through Get Out which makes this story truly horrifying.
Oh, and the sound of silver spoons tapped against bone china teacups.
But wait just one minute!
I came across this and I couldn't resist showing it to you. Get Out recut as a trailer for a comedy.
This trailer only works if you've actually seen the film.
---
If you enjoy reading my posts I would be really very happy if you could spare a moment to buy me a cup of coffee. I do actually spend this money on coffee. I drink so damn much of the stuff it's ridiculous.
Thank you for reading. 🙂